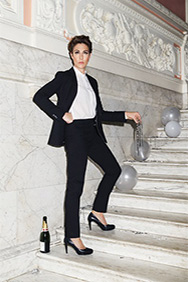 Twelfth Night
at Olivier Theatre, National
Price from $ 67.00
See Richard Wilson in Shakespeare's classic Twelfth Night at Duke of York's in Stratford upon Avon. Buy your tickets here!

Everyone is looking for love - some in impossible places. Some mourn the love they have lost. Some long for love they are refused. In Illyria love aches and madness rules.

RSC Chief Associate Director Gregory Doran directs a company including Richard Wilson, joining the RSC for the first time to play Malvolio. An award-winning actor and director Richard's recent stage appearances include Whipping It Up, Waiting for Godot and What the Butler Saw. In addition to his role as Victor Meldrew in One Foot in the Grave, Richard's other TV includes the BBC's Merlin.
Twelfth Night Reviews
"Fabulously funny, dazzling and finely tuned"
Radio Times
---
"Tamsin Greig is brilliant"
Tamsin Greig is brilliant
---
"An extravagant, rambunctious production. Tamsin Greig is magnetic"
Observer
---
"Bright, inventive and boundlessly funny. Soutra Gilmour has created a massively ingenious set"
The Guardian
---
"Masses of fun, a delicious crowd pleaser"
Time Out
---
"Exhilaratingly fresh and funny. What a night"
Mail on Sunday
---
"A knock out. Simon Godwin has pulled off a wowser. Tamsin Greig gives one of the performances of the year"
The Times
---
"A production for our times"
Financial Times
---
Venue Information
Show Information
Evening
Tuesday to Saturday 7.30pm
Matinee
Wednesday and Saturday 2pm, Sunday 3pm
Booking from
2017-04-07
Booking until
2017-05-13
Running Time:

Directions

(10mins) Follow signs for exits to the South Bank. This should lead you to an underground pedestrian passage called &lsquo;Sutton Walk&rsquo; that emerges at the South Bank. Turn right and walk along the river Thames until you see the National Theat</p

View map