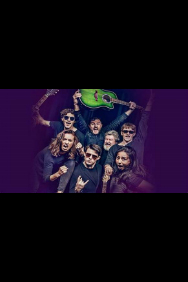 Chasing Bono
at Soho Theatre
Price from $ 28.30
A new comedy by legendary writers of 'Porridge', 'The Likely Lads', 'Auf Wiedersehen, Pet' and 'The Commitments'

1970s Dublin. Friends Neil McCormick and Paul Hewson share the same ambition: to form bands and become global superstars. Paul changed his name to 'Bono' and his band became U2. Neil's band never got off the ground.

1987. Dublin gangster Danny Machin wants a fair and balanced account written of his life whilst now-writer Neil is wondering where his went so wrong. Danny sees an opportunity and kidnaps him. Neil becomes Danny's biographer. Danny becomes Neil's shrink, probing the reasons for Neil's succession of disastrous decisions.
Venue Information
Soho Theatre
21 Dean Street
London
W1D 3NE
Show Information
Booking from
2019-01-08
Booking until
2019-01-19
Running Time:

Directions