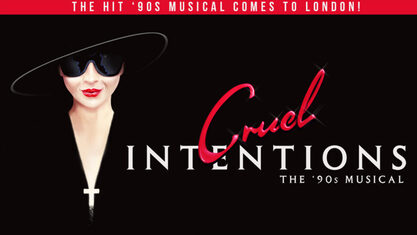 Tickets to

:
Cruel Intentions: The '90s Musical
2
tickets

,

Th, 11 Jan 2024
Cruel Intentions: The '90s Musical
Sebastian and Katyhryn are a deadly step-sibling duo who use their wealth, manipulation, and sexual prowess to get what they want. In a cruel bet, Kathryn convinces Sebastian to attempt to seduce the headmaster's daughter Annette, a virtuous girl who aims to remain celibate until marriage. Weaving a web of temptation, deceit and secrecy, the pair hatch a plan to destroy the innocent girl, along with anyone who dares to get in their way.
Show Information
Tuesday to Saturday: 7.30pm
Thursday and Saturday: 2.30pm
Sunday: 3.00pm
Directions
The Other Palace
Address
12 Palace St, Westminster London SW1E 5JA
English helpdesk

(855) 325-0977
Need help with your booking? We will gladly answer your questions.